Real-time Machine Monitoring System
9/22/2020
Introduction
Machine monitoring is the first step to realizing smart manufacturing by employing computer-integrated manufacturing and digital information technology to present the status of equipment. Machine monitoring transforms assembly, delivery, and all aspects of the production line process across a wide variety of equipment and machines - each with their own diverse protocols and communication ports. Equipment is geographically dispersed and located in environments with limited space for installation. So to allow the customer to acquire data from PLCs in their proprietary system to the cloud, a compact, distributed, multi-protocol convertor solution is required.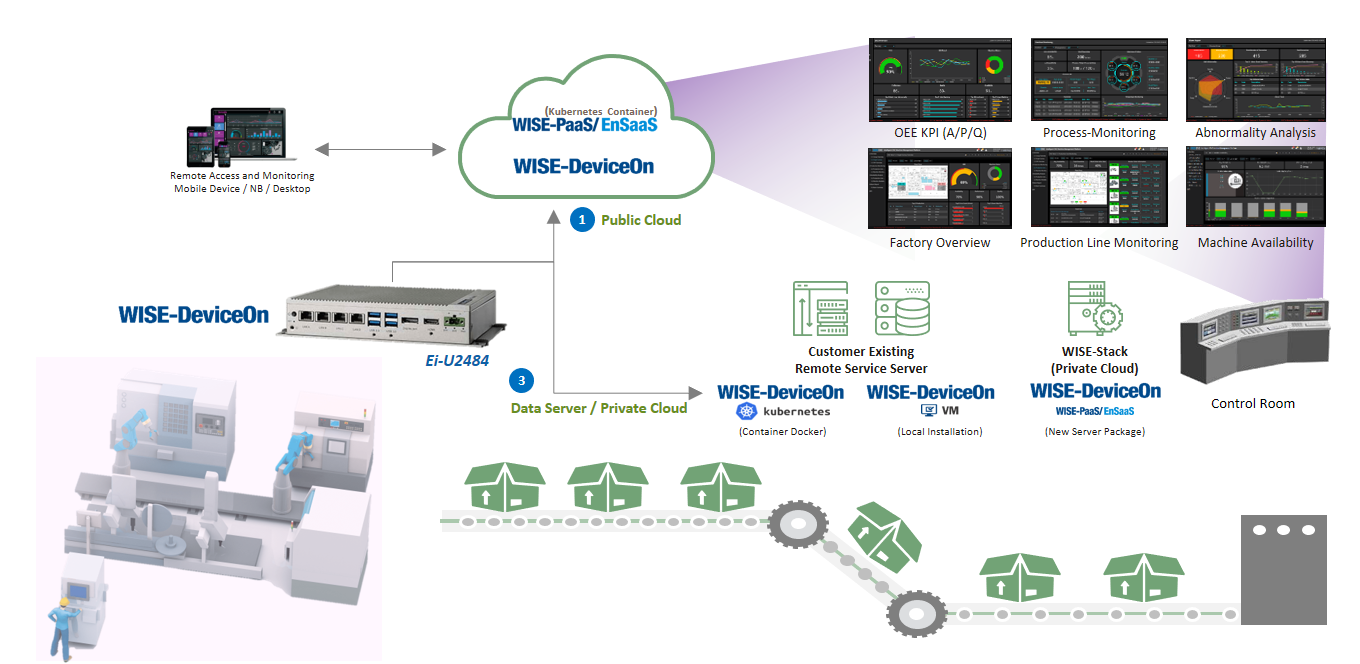 Machine Monitoring in a Smart Factory
Requirements
Advantech Ei-U2484 provides an ideal solution for machine monitoring and WISE-DeviceOn software sits at the core of the Ei series. It offers a fast and simple setup that helps provide instant edge device onboarding, data acquisition, and status visualization. WISE-DeviceOn provides comprehensive graphic APIs for dashboard development to visualize machine status, device data, and system information on cross-platform web browsers. Data collection is also a key component of the modern manufacturing process. Powered by WISE-Edgelink, Ei-U2484 uses an OPC Unified Architecture that collects data from PLC-controlled equipment. It can covert more than 200 PLC protocols to enable all types data to be used for machine intelligence.
Solution
Massive amounts and types of sensor data were collected by WISE-Edgelink and used for real-time machine monitoring. WISE-DeviceOn was used for data visualization to achieve failure prediction and real-time management of all production processes. The modular design of Ei-U2484 provides the flexibility for I/O expansion. Multiple power LED lights are used for real-time notification and alarms in the field and can be managed centrally. Advantech accurate and efficient Ei-U2484 solution helps manufacturing businesses upgrade and digitize their factories.