Advantech Upgrades its WISE-PaaS/EnSaaS Cloud Platform with Kubernetes, Accelerating the Development of AIoT Solutions
6/16/2020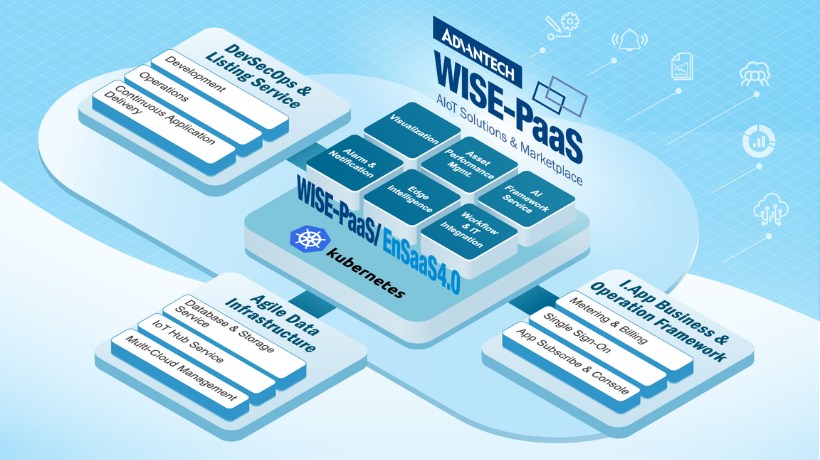 Then in 2019, Advantech began a major project to further optimize the subscription, deployment, publishing, and customization processes of industrial apps (I.Apps) and assist developers and DFSI with accelerating the deployment of AIoT industry solutions. This project involved converting the

WISE-PaaS/EnSaaS cloud platform

's underlying architecture from the original Cloud Foundry technology to Kubernetes (hereafter referred to as K8s). The K8s-based WISE-PaaS/EnSaaS 4.0 platform was officially upgraded and released in March 2020.
The agility and flexibility of K8s satisfies the needs of developers, DFSIs, and IT managers
Stanley Yeh, Advantech's WISE-PaaS solution architect, says that "considering WISE-PaaS as a whole, EnSaaS is positioned as the core data platform and is designed to help developers effectively manage computing resources."
The initial aim for the WISE-PaaS data application platform was to support diverse applications between private and public clouds to ensure a consistent operating experience. Advantech is also packaging WISE-PaaS as a private cloud solution (WISE-STACK) for local deployment. However, from a technical perspective, Cloud Foundry is a massive platform that requires advanced system specifications that are difficult to fulfil. Thus, many users requested that Advantech provide more lightweight solutions. This prompted Advantech to evaluate other underlying architecture technologies, before finally selecting K8s. Currently, K8s is considered the mainstream technical standard for collaborative containerized resource management, with its market popularity continuing to increase. Indeed, the evolution from EnSaaS 3.0 to 4.0 greatly benefits developers because they are already familiar with containerization and are familiar with developing and verifying new-generation applications using K8s.
Mr. Yeh concludes that EnSaaS 4.0 is suitable for three types of customer groups. The first type is developers because WISE-PaaS is a cross-cloud platform providing a unified development environment. This means that using this platform, developers only need to develop one solution that can be run on public and private clouds simultaneously and can be deployed in various IaaS environments for multi-cloud management. However, it is worth noting that K8s has a certain technical threshold. In many cases low-level operations must be conducted from the command line. To address this, EnSaaS provides as many user interfaces (UIs) as possible to reduce the frequency of developers typing commands, which greatly improves ease of use.
The second type of user is DFSIs. With EnSaaS 3.0, a registered account only had one EnSaaS environment. DFSIs were required to calculate the resource requirements for each case, create a large space, and then share the space with various customers. In contrast, EnSaaS 4.0 implements the concept of "multi-tenant management". DFSIs can subscribe to multiple resource spaces to meet the needs of different cases via a single registered account. This is similar to consignment or resale practices and provides greater business flexibility.
More importantly, the emergence of EnSaaS 4.0 has introduced "decoupling" and "refactoring" to the WISE-PaaS platform. Regardless of whether they are I.Apps or underlying resource services, they can be transformed into small building blocks, which can then be recommended and subscribed to through the WISE-Marketplace. This makes it easier for DFSIs to launch different solutions and accurately meet the needs of each field.
The third type of users are enterprise IT managers, who can use EnSaaS to meet the monitoring and alarm requirements of industrial IoT infrastructure, greatly minimizing maintenance and providing developers with a highly available and flexible application development and deployment environment.

Functional advantages and diverse services are provided to ensure the smooth operation of SaaS
According to Mr. Yeh, the biggest advantage of WISE-PaaS compared to other industrial IoT cloud platforms is the provision of a fast edge-to-cloud connection mechanism. Advantech worked to develop edge devices that could be easily integrated with various cloud services to provide users with plug-and-play functionality. Moreover, Advantech's I.Apps are expected to satisfy 70% ~ 80% of customers' development needs. For DFSIs, this eliminates the need to write vast amounts of programming code; instead, with only minimal customization, they can quickly build customer solutions.
With the EnSaaS 4.0 platform, WISE-PaaS offers greater functionality than ever before, including the seamless integration of cloud data and I.Apps, improved ease-of-use and efficiency due to minimal code and intelligent configuration, as well as data visualization, APM, AIFS, and other multiple application framework services, thereby greatly accelerating the development and operation of I.Apps.
Because many IaaS vendors also provide K8s services, people may wonder how Advantech's EnSaaS 4.0 differs from other offerings. Mr. Yeh explained that from the perspective of the K8s development environment, the service content of each platform is fairly similar. However, to transfer their solution to SaaS services and provide them to customers, developers typically require many intermediate services, including multi-tenant space permissions and quota management, routing management, APIM, monitoring, logs, security (such as code vulnerability scanning, keystore); lifecycle management mechanisms (such as listing, subscribe, automatic activation, upgrade, downgrade, and unsubscribe) for operating cloud services; and functions such as metering, pricing, and billing. All of these mechanisms are not contained in the K8s service content of most IaaS providers, yet are included in Advantech's EnSaaS 4.0. Moreover, EnSaaS 4.0's three-tier multi-tenant design (Cluster, Workspace, and Namespace) differs from the general K8s environment and offers more multi-tenant management flexibility to meet various business needs.
WISE-PaaS accelerates I.App deployment, transactions, and delivery with the WISE-Marketplace
EnSaaS 4.0 also features mechanisms for integrating with the WISE-Marketplace, including the Catalog Service and Listing Service. Users can quickly search and subscribe to I.Apps or underlying resource services on the WISE-Marketplace through the EnSaaS management interface. For those conducting SaaS business, diversifying solution implementation will boost promotion and adoption.
Looking ahead, Advantech is committed to making EnSaaS much easier to use. For service maintenance or new feature roll-outs, developers can simply trigger a series of processes such as environment verification, containerization, automatic deployment of cloud computing resources, and automatic deployment to the K8s environment through DevOps-related functions to minimize workloads and allow developers to focus on service innovation.
In summary, the WISE-PaaS industrial IoT data application platform based on K8s not only leverages elastic microservices, out-of-the-box functions, and development ecosystems to help developers accelerate the construction of I.Apps, but also assists service providers in ensuring stable operation with multi-tenant flexibility to support different business models. Furthermore, WISE-PaaS provides a platform for value exchanges by using the WISE-Marketplace to trade and deliver I.Apps. Advantech will continue to invite service providers from multiple industries to publish services in order to promote interoperability among DFSIs and facilitate the implementation of innovative industrial IoT applications.
The WISE-PaaS platform end-to-cloud architecture provides a comprehensive development environment for data collection, analysis, management, and applications, while promoting interoperability between I.Apps via the WISE-Marketplace and accelerating the development of industrial solutions.
The I.App starter package provides a variety of basic services for building industrial IoT solutions, including end-to-cloud data collection, device management, 2D/3D visualization, and AI development. Try WISE-PaaS for free and experience minimal code development!