Advantech Delivers Remote Device Operation and Management to AIoT Applications Using the WISE-DeviceOn Series
1/20/2021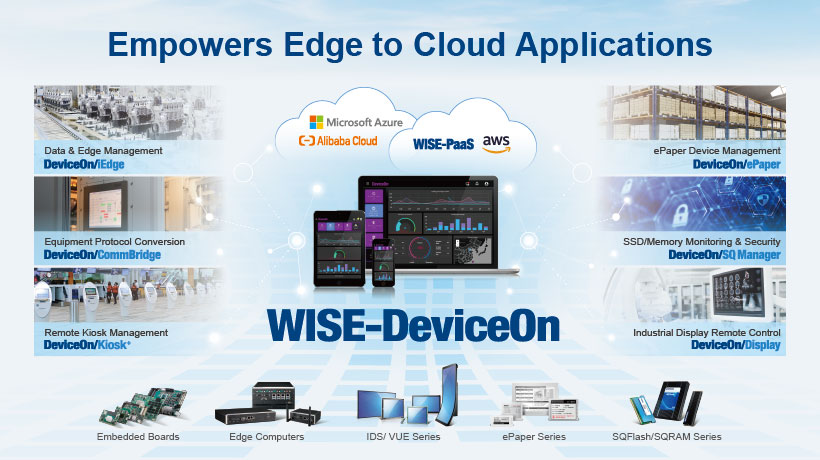 Taipei, Taiwan, Jan 20, 2020 — Advantech, a leading edge computing solutions provider, is proud to announce the release of WISE-DeviceOn software and industrial app solutions. This series empowers edge to cloud applications and remote device operation management. Research suggests that the number of global IoT connections and devices will increase to 27 million and 100 billion respectively. These same studies predict the overall intelligent edge market value will grow to USD 65 billion by 2025. As a result, the market demand for remote device management has increased exponentially. Advantech's full series of plug-and-play edge computing platforms with integrated WISE-DeviceOn IoT remote management software meet these trends by delivering real-time device and data management capabilities. This series eases business integration for software application management and cloud platforms. Advantech has also developed a series of WISE-DeviceOn industrial apps for specific domain requirements — these include DeviceOn/iEdge for data and edge management, DeviceOn/CommBridge for equipment protocol conversion, DeviceOn/Kiosk+ for remote kiosk management, and DeviceOn/ePaper, DeviceOn/Display, and DeviceOn/SQ Manager for the remote control and management of related peripheral modules. These functions help customers manage connected IoT devices while building edge-to-cloud applications.
Integrate Edge Computing Platforms for Plug-and-Play IoT Deployment
Advantech's full series of edge computing platforms feature standard versions of WISE-DeviceOn software. This software delivers device, data, and application management; as well as multi-cloud platform integration services for a myriad of applications. Indeed, it allows users to manage a wide spectrum of Advantech edge devices, peripherals, and software by delivering real-time remote access and management to more than 600 models of system and board.
Total Management Devices & Hardware l Software & Peripherals l Open APIs Ease Integration
Remote Access Real-time Monitoring l Remote Controls l Troubleshooting
Efficient Operation OTA Update l Batch Controls l Setup Booster
Extend Services to Specific Domain Applications
Advantech has developed a series of WISE-DeviceOn industrial apps capable of delivering a range of functions to specific domain requirements. DeviceOn/iEdge, DeviceOn/CommBridge and DeviceOn/ePaper arethree such examples. These apps enable multiple equipment industrial protocol integration, field-side data collection and real-time warehouse digital labeling system in smart factories. Leveraging remote scheduling actions to reduce human-error by monitoring equipment and production line statuses and provides automation rules. With open SDK and API, data is delivered to IT personnel for further manufacturing execution system (MES) integration to accelerate the digital transformation of business processes and decision-making.
Take another scenario as example. Businesses and organizations are increasingly dependent on kiosk devices. Kiosks are used in airports, ATMs, banks, retail shops, malls, hotels, restaurants, and various other self-service applications. In applications spanning different locations, device setup, remote control, and management are serious concerns. Advantech's DeviceOn/Kiosk+ helps address these concerns by providing remote monitoring and control. This industrial app provides an intelligent device management solution that automates industrial and commercial applications using any browser capable device. DeviceOn/Kiosk+ offers grouping management, zero-touch onboarding, OTA updating, and remote control capabilities for peripherals. This smart kiosk solution optimizes network management, reduces costs, and minimizes employee overheads. For more information about WISE-DeviceOn, please visit our website atwww.advantech.com.